Customer Reviews
03/10/2021
YVONNE K.

United Kingdom
Beautiful addition to our room
Beautiful
17/11/2021
Rebecca Tracey
They are just the BEST aren't they!! I have one in every room!! :)
17/06/2021
Jay J.

United Kingdom
Perfect!
I am SO delighted with this diffuser! I wanted a fairly small one which it is, so was slightly concerned that it wouldn't last for very long. However, it exceeded my expectations and is exactly what I'd hoped for! I also ordered 3 oil blends which are just beautiful! The postman delivered them in my porch and I could smell them through the packaging as soon as I opened the door!! I was actually concerned they had leaked but not at all - they are super quality! Thank you Rebecca x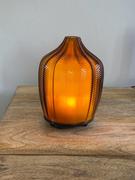 05/07/2021
Rebecca Tracey
You are more than welcome! Enjoy them all, and there are plenty more combinations of beautiful fragrances for you to explore!! :) Thank you again!
01/06/2021
Neil H.

United Kingdom
Better than I'd hoped
I am so glad I bought another diffuser for our bedroom, the amber colour gives a wonderful warm glow in the corner of our bedroom, it's easy to refill and puffs away gently in the background. Hardest part was getting it past the other half.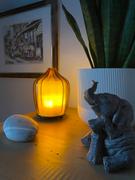 11/06/2021
Rebecca Tracey
Thank you Neil, they are wonderfully addictive aren't they? I think they're needed throughout most of the house actually!! ;) Your custom is incredibly appreciated - thank you!
19/02/2021
Aoife C.

Ireland
Lovely glass diffuser
Rebecca went above and beyond to arrange this delivery and it was so worth it . I adore this diffuser , the lovely soft warm light and colour of the amber glass is what makes it different from the other diffusers I have here at home . Delighted and highly recommend !
21/02/2021
Rebecca Tracey
You are more than welcome Aoife! I am so pleased that when we finally managed to get it to you, it was worth the wait! Enjoy! :)
06/01/2021
Virginia B.

United Kingdom