02 - Lavender & Orange Diffuser
The calming, soothing and relaxing fragrance of lavender blends perfectly with the citrusy zing of orange to create a fragrance that's full of depth and absolutely gorgeous!
Additional Information
To use, place the rattan reeds into the bottle allowing the perfume to be drawn up through the reeds to fragrance the room.  To increase the scent, remove the reeds and place them upside down in the bottle.  As there is no alcohol, they don't' evaporate, and can last for months.
100ml with up to 12 months of fragrance!
Be careful when turning the reeds to keep the oil off of any walls or porous surfaces
Keep out of direct sunlight
Wash hands after handling
Customer Reviews
21/10/2020
Linda M.
United Kingdom
Lovely fragrance
Love the fragrance, looking forward to seeing how long it lasts
21/10/2020
Rebecca Tracey
Thank you so much for your lovely review! I really do hope you enjoy it!
10/08/2020
Jackie M.
United Kingdom
Love this product
I've placed my diffuser in the bedroom as I find the smell deliciously calmingThe scent is subtle but constant. I waited some 6 weeks to post my review and i can happily confirm that the fragrance hasn't faded. The bottles are small & discreet. Service is second to none. Would definitely recommend the company & product.
10/08/2020
Rebecca Tracey
Thank you so much for your wonderfully kind words Jackie, I'm thrilled that you're loving your diffuser as much as I do! Enjoy!
20/06/2020
Sara H.
United Kingdom
Heaven
Love the packaging and simplicity of the design. The scent is strong to leave a perfect subtle scent in a large room.
21/06/2020
Rebecca Tracey
Thank you Sara - really means a lot to hear that you're enjoying your purchase!
06/06/2020
Judith R.
United Kingdom
Brilliant
I have used these diffusers for a while. They smell gorgeous, last for ages and competitively priced. Way above other diffusers I have had. The way they are packaged with the brown cardboard makes them quite discreet and easy to place anywhere. But they smell divine wherever i put them.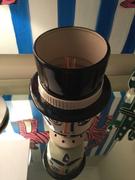 06/06/2020
Rebecca Tracey
Thank you Judith! Really happy to hear you're enjoying it!
28/08/2019
Ruth F.
United Kingdom
Lavender and orange diffuser
Item was bought as a gift carefuly packed when sending to us and the receipient of the gift was delighted.
28/08/2019
Rebecca Tracey
Thank you so much for your wonderful review!