12 - Patchouli Deep Travel Candle
This gorgeous intense fragrance is smooth, deep and earthy. Mixed with the smokiness of Vetiver, and the sweet offset of vanilla and orange, this harmonious and suave combination brings an unequalled depth to natural fragrance.
Light, breathe in….and relax!
Additional Information
This luxury candle is hand poured in England. Our perfect blend of 100% pure essential oils, natural cotton wick, and GM free soya wax ensure that you can enjoy the gorgeous aromatherapy fragrance for approximately 20 - 25 hours.
Your 120g candle comes in a translucent aromatherapy jar with a black twist on lid.
Before each use to ensure a clean burn, trim your wick to between 1/8 and 1/4 inch.
Customer Reviews
21/12/2020
Neil H.
United Kingdom
Smells so go you want to wear it!
This candle is my favourite! It's deep, earthy and fills the room. It's stunning, it's so good I dipped my fingers in it and rubbing it all over my hands. I only wish this came in an essential oil.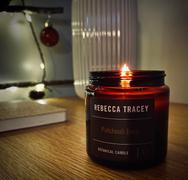 28/12/2020
Rebecca Tracey
Thank you so much Neil! So happy to hear that you're enjoying the fragrance! :)