01 - Lemon, Patchouli & Lemongrass Essential Oil
Our no. 1 best selling candle fragrance – uplifting, zesty, invigorating and cleansing!  This beautiful scent lifts the spirits and fills the room with sunshine and positivity.
Additional Information
Dilute to use: 2-5 drops per 10ml carrier oil/product
Vaporise 6-10 drops
10ml amber dropper top bottles
External use only
Keep away from eyes and children.  Store away from heat/sun.  Seek advice if pregnant or with medical conditions.
Customer Reviews
08/08/2020
Kerry l.
United Kingdom
Beautiful
These are a game changer, I put a few drops of oil in my diffuser and my house smells beautiful
09/08/2020
Rebecca Tracey
Thank you so much Kerry! Enjoy!
01/07/2020
Heather D.
United Kingdom
My favourite
Fantastic service. I'm already addicted to this blend and previously had the candle and reed defuser. Love it in my defuser.
01/07/2020
Rebecca Tracey
It is a pretty addictive fragrance isn't it?? :) Thank you so much, so happy to hear you're enjoying it!
18/05/2020
Kerry l.
United Kingdom
Smells amazing
I bought a candle from the Cotswolds last year while on a little break. The candles are the best I've ever bought, since then I've bought more candles reed diffusers and the oils. I could not recommend all these enough. The customer service from Rebecca Tracey is 2nd to none.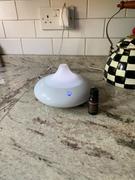 18/05/2020
Rebecca Tracey
Thank you so much Kerry! Your support is wonderful! :)