04 - Frankincense, Lavender & Geranium Travel Candle
An absolutely stunning combination of gorgeous florally notes, perfectly blended with the deep woody undertones of the calming and grounding Frankincense. Perfect for a lazy afternoon!
Additional Information
This luxury candle is hand poured in England. Our perfect blend of 100% pure essential oils, natural cotton wick, and GM free soya wax ensure that you can enjoy the gorgeous aromatherapy fragrance for approximately 20 - 25 hours.
Your 120g candle comes in a translucent aromatherapy jar with a black twist on lid.
Before each use to ensure a clean burn, trim your wick to between 1/8 and 1/4 inch.
Customer Reviews
10/04/2021
Nigel G.

United Kingdom
Unusual mix
I chose this as I thought it was an unusual mix of fragrance and wondered what it was like. It's quite calming and I sometimes light it before sleep .
15/04/2021
Rebecca Tracey
Thank you so much for your lovely review Nigel - enjoy! :)
24/07/2020
Ann B.

United Kingdom
Quality products made with careService,
Excellent products , great service from beginning to end, Rebecca is a pleasure to deal with, I will have no hesitation in recommending her lovely products, my home smells delightful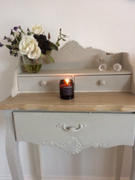 07/08/2020
Rebecca Tracey
Thank you so much for your kind words Ann! It means so much, and hope you're enjoying your candle!
Spa in a jar
I love the fragrance of Rebecca Tracey's Frankincense, Lavender and Geranium Travel Candle, it makes the room smell like a spa. I would definitely recommend this product.
02/04/2019
Rebecca Tracey