Lemongrass & Lime Hand Wash and Lotion Gift Set
A beautiful gift set of our very popular aromatherapy hand wash and lotions, in a bespoke, recycled cardboard box.
Each set contains a 200ml glass bottle of both the hand wash and lotion.
Hydrate, refresh, uplift and invigorate the skin and your senses with the beautiful blend of Lemongrass & Lime pure essential oils.
Customer Reviews
06/11/2020
Fiona M.
United Kingdom
Amazing product!
This soap and lotion set was so impressive when I first used it that I have bought some as Christmas gifts. It smells divine, it's made from natural products and is an all round favourite for me.
08/11/2020
Rebecca Tracey
Thank you Fiona! I hope everyone else enjoys them as much as we do! x
15/06/2020
Madeline M.
United Kingdom
Rebecca Tracey products
So happy with my recent purchases .... Hand wash and hand cream lemongrass/lime Lavender/orange natural rattan reed diffuser Aromatherapy bubble bath..... Fast efficient delivery and a hand written thank you from Rebecca Tracey, a very nice personal touch. So Pleased.❤️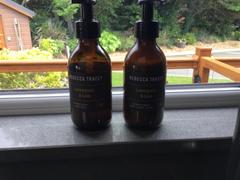 15/06/2020
Rebecca Tracey
Thank you for your wonderful review! So happy to hear you're enjoying all of your goodies! :)
18/05/2020
Linda D.
United Kingdom
Perfect gift set
Really love my choice of fragrance and even my husband commented on the hand wash, which has got to be a first! Loved the shiny smile lip conditioner which was a lovely surprise and using it every day.
18/05/2020
Rebecca Tracey
Thank you so much for your wonderful support Linda, glad you're enjoying everything!