Limited Edition LOVE candle
Although we may be away from our nearest and dearest, you can still share the LOVE this year, especially for Valentine's day. Treat yourself, or someone special, to our NEW limited-edition candle in a Keith Brymer Jones LOVE mug. Light the double wick and cherish all the love you feel and have for others. Allow yourself to relax as the blend of the six exquisite essential oils lifts away your stresses and anxiety.
Your beautiful mug can be easily cleaned and reused time and time again for your favourite morning cuppa, OR, if you LOVED it as a candle; return it to us to be refilled with loving light!
Accept and share the love; you deserve it! X
Ingredients
Rose
Rose Geranium
Rosewood
Vetiver
Neroli
Lemon

Additional Information
300g
100% pure essential oils
Natural cotton wicks
GM free soya wax
Hand poured in England
Burn time: approximately 60 hours
100% recycled packaging
GUIDANCE
Before each use trim your wick to between 1/8 and 1/4 inch, this will ensure a clean burn.
Customer Reviews
03/03/2021
Christine A.

United Kingdom
Stunning candle
Bought this after seeing on Instagram - arrived well packaged with dried rosebuds on top of the candle. As soon as I opened the package there was the most intense wonderful smell - I can't wait to start using it - it just smells stunning. Am pretty sure I'll be trying some more.
04/03/2021
Rebecca Tracey
Thank you so much Christine! I'm so pleased to hear this! Enjoy your LOVE candle, and return it to be refilled, or enjoy your morning cuppa in it! :)
09/02/2021
Jo C.

United Kingdom
It's Beautiful...
I justified the purchase as a gift to myself and I'm so glad I did. I'm a fan of all the RT candles but this one is really special, a beautiful fragrance I love it! Hopefully going to see the oil for the diffusers and 3 wick candle edition...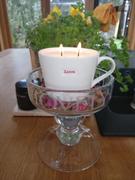 12/02/2021
Rebecca Tracey
I'm so happy to hear you're enjoying your candle Jo. I just may have to expand the range then!! :)