Customer Reviews
03/03/2021
Christine A.

United Kingdom
Stunning candle
Bought this after seeing on Instagram - arrived well packaged with dried rosebuds on top of the candle. As soon as I opened the package there was the most intense wonderful smell - I can't wait to start using it - it just smells stunning. Am pretty sure I'll be trying some more.
04/03/2021
Rebecca Tracey
Thank you so much Christine! I'm so pleased to hear this! Enjoy your LOVE candle, and return it to be refilled, or enjoy your morning cuppa in it! :)
09/02/2021
Jo C.

United Kingdom
It's Beautiful...
I justified the purchase as a gift to myself and I'm so glad I did. I'm a fan of all the RT candles but this one is really special, a beautiful fragrance I love it! Hopefully going to see the oil for the diffusers and 3 wick candle edition...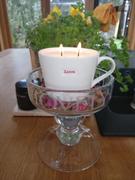 12/02/2021
Rebecca Tracey
I'm so happy to hear you're enjoying your candle Jo. I just may have to expand the range then!! :)